The no gel, no hassle, EEG headband
The Vilistus V-BAND
A quicker and easier hookup
Saline connectivity - the end of paste and gel!
Gold electrodes for more accurate readings
Saves time and money on supplies
handcrafted, comfortable and stylish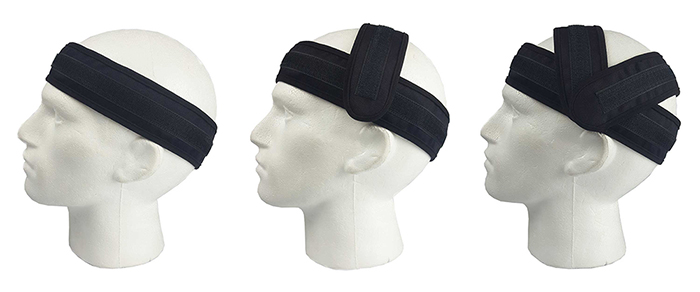 The Vilistus V-BAND has been created for us by top UK-based fashion designer, Frida Hoffman, and is simple to use as well as stylish and comfortable to wear.
It effortlessly supports the 10/20 electrode system and, unlike other headbands and headsets, you have complete control as to where you place the electrodes.
We've included everything you'll need. The two-channel Vilistus V-BAND set contains:
The Vilistus EEG V-BAND
Two full-size overhead straps
Five Chamois leather electrode pouches
Five gold-plated Vilistus electrodes
Five positioning markers
We also supply a small atomiser bottle that you can fill with saline solution (and we can supply that as well). If you need more channels, you can use our four, eight or sixteen channel sets or just add pouches and electrodes as you need them.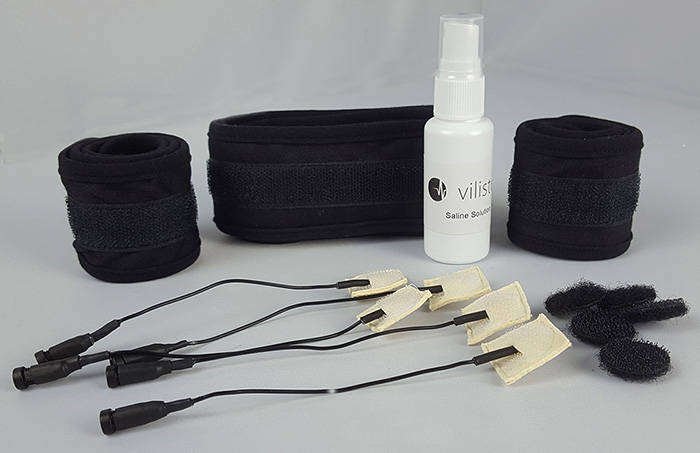 Simple to use, easy to clean
Using a simple salt water solution to create an excellent electrical connection, the gold electrodes are held snugly in place using the soft chamois pouches attached via Velcro® to the V-BAND and over-the-head straps.The electrode pouches give you the freedom to create any montage you like. And, when you're done, just clean the pouches with tap-water and you're ready to go again.

Works seamlessly with Vilistus sensors
If you want to keep using your Vilistus electrodes, pastes and gels, our specially designed V-BAND will give you greater comfort and a tight, snug fit for a better connection.
If you switch to the V-BAND with its gold electrodes and saline conductivity, you will get an excellent connection in seconds instead of minutes.
And because the headband has been designed to be removable, once you've placed the sensors and run your session, you can just lift it off - ready for the next time. The optional chin-strap ensures that you always have a solid connection to the scalp - even though hair!
And, then there is the question of "where" to place the sensors. It's all very well ensuring that the headband fits correctly, but it's quite another thing to work out where to place the electrodes. We've thought this though!
We supply a set of positioning markers which you can place on the outside of the V-Band and head-strap. And, once you've done that, they can be used to capture the electrode leads and ensure that they are neat and tidy!
Works with everything
If you use equipment other than Vilistus, we're not forgetting you either! The Vilistus V-BAND can be used with any neurofeedback product that uses tin, gold or Ag/AgCl electrodes. Just pop them in the pouches and you're good to go.
A small price to pay
Over the course of a year, you purchase skin preparation gels such as NuPrep, and electrode pastes like TEN20 and costly new electrodes, since the silver chloride layer rubs off with wear. These costs mount up, especially if you are working with clients.
The two channel Vilistus V-BAND saves you these recurring costs. we provide everything you need for the one-off price of £119.99 - a saving of £80.00. And if you need a four channel set, the price is just £179.99 (a saving of over £120). If you need more channels - or just would like more information - drop us an email at sales@vilistus.com or call us on +44 (0) 1 931 778606
Help when you need it
And, remember, with the Vilistus V-BAND neurofeedback headband you get the same level of help and support that's available with all of our products. So, don't delay, get yours today and start experiencing the benefits of neurofeedback without the hook-up hassle.