The time-proven aid to meditation and mind expansion
Mind Mirror®
For over forty years, the Mind Mirror has been the way to achieve deep profound meditative states and a method of enhancing health and happiness.
"I really like the way that I feel and function when I use my Vilistus Mind Mirror daily.
I not only feel more peaceful and more positive, but I also feel that my memory and cognitive functions are better."

--Alston J. Balkcom
Now, the revolutionary, state-of-the-art Vilistus Mind Mirror 6 combines the dynamic and affordable Vilistus EEG system, with its convenient Bluetooth technology, with the most advanced Mind Mirror program yet.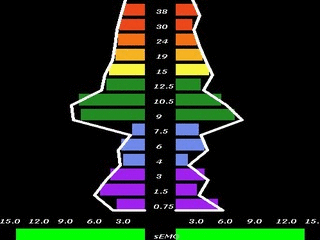 "Vilistus has created an incredibly versatile and highly affordable Mind Mirror that positions awakened mind brainwave training at the forefront of global mind research and ensures the future of this pioneering work"

-- Judith Pennington, founder of the Instute of the Awakened Mind
Engineered by Vilistus, the new Mind Mirror 6 is a highly versatile brainwave training and research tool that enables awakened mind practitioners and researchers to guide people to the meditation, awakened mind, and evolved mind brainwave patterns identified by consciousness pioneers C.&nbspMaxwell&nbspCade and his successor, Anna&nbspWise.
We are pleased to announce the implementation of self-training screens with challenge levels and audio tones that anyone can use to attain these higher states of awareness.
For individuals, researchers, and professional brainwave trainers, this research-grade Mind Mirror features:
The classic 0.5-44 hz. Mind Mirror screen with two color choices, shown below
An optional screen with an additional 44-64 hz. gamma band
A partitioned screen displaying the Mind Mirror and two physiological readouts, the Galvanic Skin Response meter and the Blood Volume Pulse meter, with a slider bar for moving backward and forward through the session.
Voice recording into the session
A new sensor-wire configuration that reduces the two-channel Mind Mirror to one channel, leaving three channels open for other applications Group training capabilities
Adjustable microvoltage readings, refresh rates, and brainwave configurations: e.g., horizontal bars, outline, and outline with fill pattern
Two-year fair use warranty on the Vilistus-4, one-year fair use warranty on sensor and lifetime support for the Mind Mirror 6 software
Downloadable user manual and one year of technical support by internet or telephone
Neurofeedback applications for training peak performance
Visit the Institute for the Awakened Mind to learn more about the Mind Mirror and this unique way to reach deep, profound meditation states for mind expansion and increased health and happiness.