Simple to set-up, easy to use - the ultimate home training system
Neurofeedback Personal Training Pack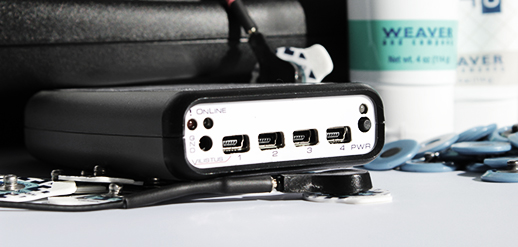 I've used many neurofeedback devices, some costing tens of thousands of pounds, and I'm very impressed with the quality of the recording and feedback options available with Vilistus"
-- David Vincent, neurofeedback practitioner and trainer
Vilistus provides the most affordable and
flexible biofeedback and neurofeedback equipment available today.
Simple To Use
We've designed the Neurofeedback Personal Training Pack to be simple to use right out of the box, and with the extremely easy to use Vilistus/Pro software, you can be up and running in minutes!
But don't let the ease of use fool you, the Neurofeedback Personal Training Pack is fully featured and is being used around the world by therapists, researchers, educators and high performance trainers as well as people using it at home for self improvement.
Ideal For Home Training
Whether you want to reduce anxiety, relax, increase attention, bring down stress or improve performance, the Neurofeedback Personal Training Pack is a great way to get going.
Use our neurofeedback home kit's training protocols or develop your own! Out of the box, you can train for relaxation, peak performance and focus/attention, or just use it for brainwave monitoring.
Use the Neurofeedback Personal Training Pack to get better at your chosen sport, concentrate in the classroom or the boardroom and learn to keep your energy levels up.
The Affordable Solution
The Neurofeedback Personal Training Pack is simple and affordable. Whether you're running a home training program, want a business or sports advantage or running a research project, The Neurofeedback Personal Training Pack delivers everything you need.
Contents Of The Neurofeedback Personal Training Pack
You'll get:
A Vilistus-4 USB digital sampling unit and cables
A two channel EEG sensor
A sturdy presentation / carrying case
Operating manual
The Neurofeedback Personal Training Pack comes with a standard TWO year warranty, unlimited software updates, friendly and knowledgeable technical support and
a 14-day NO-QUIBBLE money back guarantee.
Comprehensive Support
The first question people generally ask is "What happens if I need help?". Well, we give you technical support by telephone and Email, a comprehensive TWO year warranty on the equipment and software updates for the life of the product.
Our technicians are extensively trained in our products and how to use them so that you can be sure that whatever question you've got, you'll get a knowledgeable answer from us.
If you feel you need some training to make the most of your investment, we offer a range of options including:
'Fast start' training
On-hour online sessions
One-to-one practitioners tutorial
where you set the agenda to receive exactly the information you want.
Ring us today on +44 (0) 1931 778606 for more information
Highly Portable
With its small footprint, the Vilistus is the ultimate FOUR channel portable EEG system; take it with you anywhere, plug it into your laptop or desktop and away you go.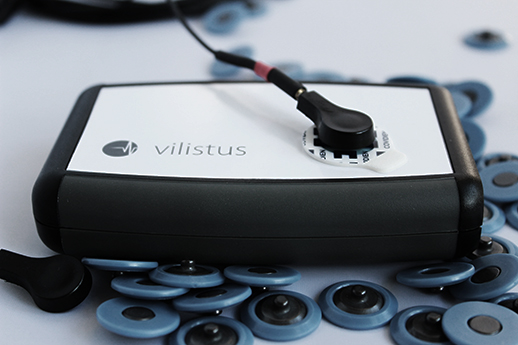 Comprehensive Feedback
The Neurofeedback Personal Training Pack has many ways of giving feedback; single tones, MP3's, Videos, the Mind-Cube, the Procyon AVS system and other 3rd party products. You can also use the Vilistus/Pro's in-built instruments such as bar charts and line graphs.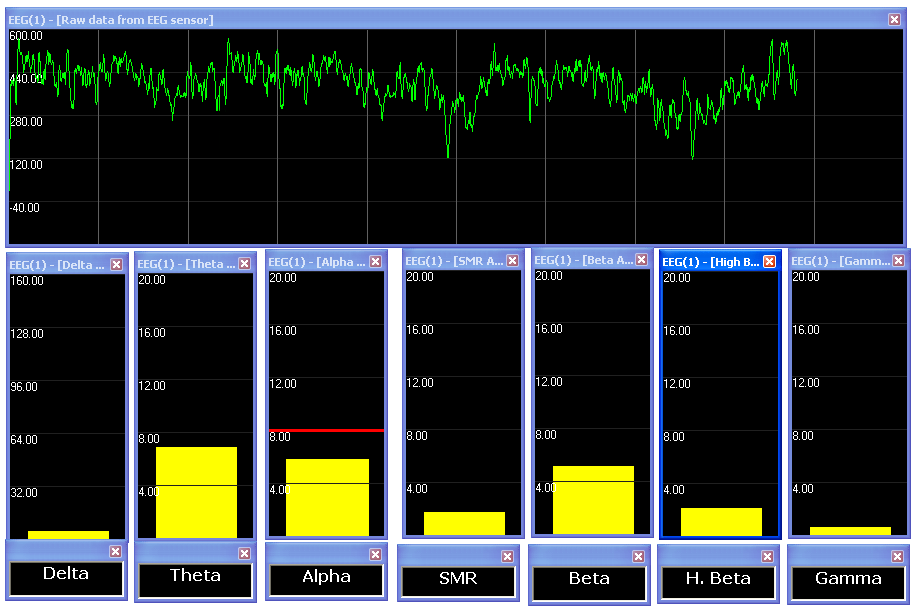 For added flexibility, you can set a training threshold or let the Vilistus/Pro software do it for you.
Additionally, the Neurofeedback Personal Training Pack can be used with 3rd party software such as Zukor's Grind and the IBVA Brain Machine. If you're into Audio Visual Entrainment, our Procyon interface will give you true EEG driven AVE.
Multi Person Capability
Need to hook up 2, 3 or 4 people? Go ahead, the Neurofeedback Personal Training Pack has been specifically designed to allow multiple users to be connected simultaneously without loss of signal quality.
And not just for recording either - The Neurofeedback Personal Training Pack gives full neurofeedback capabilities for everyone.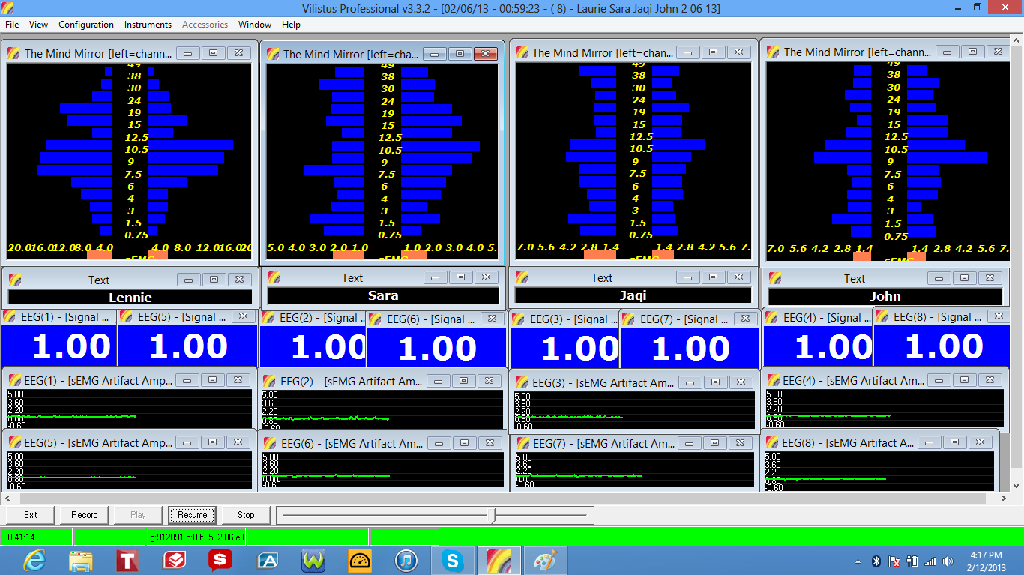 Extensive Range Of Sensors
Not only is the Neurofeedback Personal Training Pack the most cost effective biofeedback and neurofeedback product available today, you can also add other sensors whenever you need them. You don't need to buy dedicated Galvanic Skin Response meters, Heart Rate Variability sensors or respiration belts; it's all available with Vilistus.
Biometric Recording
The Neurofeedback Personal Training Pack is great to EEG recording. The data is stored in its raw form on disk so that everything is available for you for later analysis. If you're running a research project and need ERP's, you can plug in our serial trigger cable and get exact timings for stimulus and response.
Quality Signals And High Speed Data
The Neurofeedback Personal Training Pack can measure signals up to 1024 samples per second and with a wide frequency band allows training in the gamma band.
The Vilistus/Pro software automatically measures the quality of the signals being received. Unlike older style equipment, you don't need to buy expensive impedance meters to know whether the electrodes are connected properly, the Vilistus software provides a simple "Signal Quality" graphic that immediately identifies any issues with sEMG artifact, 50/60hz noise and background noise.
Application Programming Interface
Fancy writing your own software? We'll help you. The Vilistus API handles all communications and data conversion for you.
Want To Know More?
The Neurofeedback Personal Training Pack is the best way to get going with neurofeedback. With a two year warranty and knowledgeable technical support, you're in good hands.
Remember, for complete peace of mind, we provide:
A comprehensive TWO year warranty
Life time software updates to the Vilistus/Pro software
Friendly and knowledgeable technical support
A money-back guarantee
Talk to us about what you need. Call today on +44 (0) 1 931 778606 or use the contact page.